Posts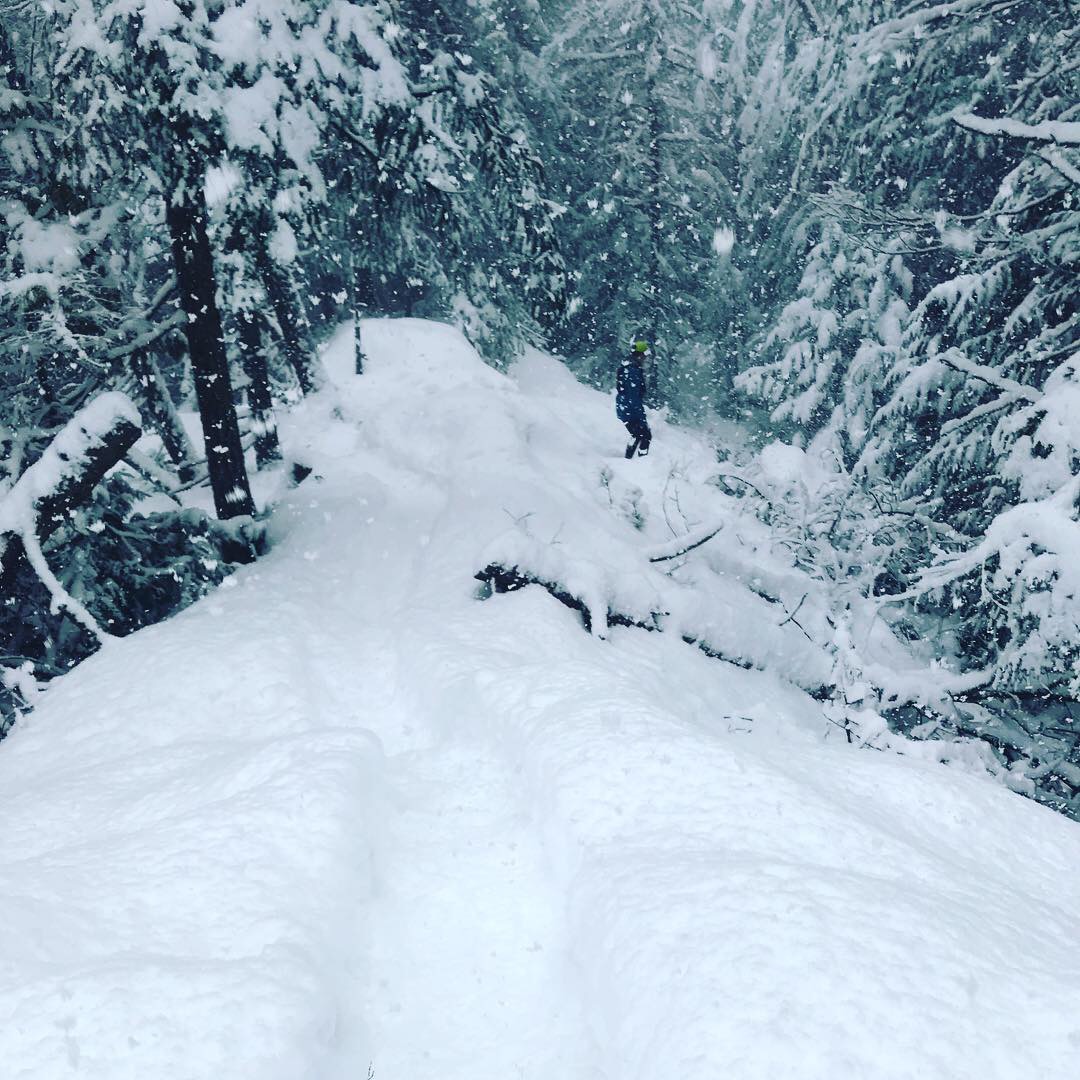 The Diez Vistas ridge turned into a snow-choked wonderland
April 8, 2019
When: February 23rd, 2019
My results: 4:22:20 official, 4:22:29 Apple Watch + Strava
Three big climbs, three big downhill scrambles, the biggest snowflakes I've ever seen, and the best race I've run in yet.
Why This Race?
Run Ridge Run (RRR) is a Coast Mountain Trail Series race organized by the same folks as the Diez Vista 50k (DV50). Elaine Fung recommended the 25km course to me back in November as a good confidence-building preview race for the DV50, which I'm running tomorrow, and she was right on the money.
Training
This race came a little over halfway into my training for the DV50, so it didn't get much special consideration of its own. I'd already covered much of the course on previous long runs, and I tackled its specific 25km route to fill in the gaps during my back-to-back long run weekend in January. In the weeks leading up to RRR I'd been struggling with a mild injury that had put the zap on my mental game a little bit, but I knew that if I could keep my legs moving and my head in check, my DV50 training would be more than enough to get me across the finish line.
One thing my training hadn't prepared me for was the prospect of running on snowy, icy trails. Two weeks before race day, our warm and dry winter got buried under a surprising amount of snow. It clogged up the streets in the western Fraser Valley and absolutely buried the mountains. I stayed on the treadmill once the snow started piling up – which is what led to my hips and quads getting messed up – but when race week arrived, it was obvious that there would be no escaping the slippery stuff, so I managed to get some spikes two days before the race. In retrospect, I should have picked them up just to get familiar with them when the snow started. It would have kept me off the treadmill, too. It's commonly-held wisdom that you don't mess with your gear right before a race, but as luck would have it, a few short jogs around my neighbourhood and a 2km warm-up on race day were enough to get me comfortable running with traction on ice.
Getting There
The start line is on White Pine Beach at Sasamat Lake, northeast of Coquitlam. In the winter months, it's only accessible by car. There's a bus stop in the parking lot on the hill above the beach, but I'm pretty sure it only runs in the summer. I drove up early because I needed to pick up my bib and I wanted to avoid traffic. Despite a stop for coffee and the narrow twisty roads between Coquitlam and the beach, it only took me 45 minutes from Langley. I arrived a little after 7:00 am, and the parking lot volunteers directed me to a spot in the nearly-empty F lot right by the stairs down to the beach.
Gear
Other than the addition of my traction spikes, my race gear was exactly what I'd worn for every long run during DV50 training.
Shoes: Salomon Sense Rides straddling the border between "worn in" and "beat up".
Traction: Kahtoola NANOspikes. Rock-solid and indispensable. I slipped them on for my warm-up and left them in place until I got back to my car post-race. Other than a few minor adjustments during the first 5km, during which my uphill strides were dragging snow into the toe-tips and causing them to sit weird, I didn't have to fuss with them at all.
Upper body: the classic "chill cat" tank top – starting to get a little worn out – underneath a fitted MEC Stride jacket. I've learned from experience that this is a good amount of layering for near-freezing conditions. I also had on a pair of the cheap blue gloves they give out at the BMO Marathon expo.
Lower body: generic black MEC running pants and black Endur socks (which came in the swag bag from last year's Fall Classic)
Backpack: my Salomon Agile 6 with the usual gear – mini first aid kit, headlamp, battery pack and Lightning charge cable, a red toque, and three Hammer gels. Another two gels went in my pants pocket for consumption during the first half of the race.
Watch: this was my last race using an Apple Watch Series 3. I'd been thinking about replacing it ever since it failed to record GPS track points for the second half of a long run, and the guys at the Suunto tent before the race gave me some compelling reasons (not the least of which was a nice discount) on a Suunto 9. During this race, the Apple Watch performed just fine.
Music and photos: I had my iPhone 7 and some wired earbuds with me, but I didn't listen to any music on this race, and I only took the phone out for some photos once the snow situation got too wild to resist.
Other gear: my now-discontinued Endur glitch hat (a Google search for it just leads to my own web site now) and a pair of prescription eyeglasses (good depth perception was essential for navigating the white-on-white trail snowpack).
Nutrition
I abandoned the low-carb thing back in December, not yet having reached the level of fat-adaption needed to sustain a 4- or 5-hour long run without bonking. That allowed me to enjoy a multigrain bagel with Fatso peanut butter roughly two hours before the race. I stopped at our local Starbucks right after leaving the house, and after learning where I was headed, the ladies there gave me a free venti Americano with some positivity written on the side.
There are no restrooms anywhere on the course, so I took advantage of my early arrival at White Pine Beach to ensure I wouldn't need one during the race. Enough said.
After some trial and error in December, I settled on Hammer gels as my go-to running fuel. They're not too sweet, I'm not sick of the four flavours I rotate through (hazelnut chocolate, vanilla, blackberry, and raspberry), my stomach doesn't mind them, and most importantly, they really do sustain me. I brought five of them, although I only planned to eat four, figuring I could keep the last one as a reserve in case I really needed it. I wound up eating only three, one every 45 minutes after the race started – the other two I gave to a fellow racer who was bonking hard on Lakeview Trail. I didn't catch his name or bib number, but I wouldn't have been surprised if he'd dropped at the race's only aid station at KM 18 – he looked rough, and I was glad I had the gels to give him. I filled in the missing calories at the aid station with a bit of Coke, a handful of potato chips, and a soft flask refilled with an electrolyte drink.
I'm very happy with how my nutrition played out during the race, even with the missed gels. I felt energized throughout almost the entire run, despite the increased caloric burn that came from slogging through the snow, and I was merely famished at the finish line, rather than cataclysmically starving.
Music
This is the first race where I didn't listen to anything at all. I didn't even get my earbuds out of my pack. Something about the day precluded my desire to isolate myself from the larger world during the race. In previous events, my tendency has been to retreat into a mental tunnel, separated from the other runners, the spectators, and my own aches and pains by a wall built out of effort and music. The character of this race – imparted largely by the organizers and the other participants – was such that it felt wonderful to be present in the moment, to smile at and share a brief word with other runners, to thank the many course marshals, to bask in the oddly communal sense springing from the knowledge that the entire mountainous spur between Indian Arm and Buntzen Lake was alive with delighted, striving nutcases just like me.
So, yeah, no music.
Logistics & Organization
The Coast Mountain Trail Series folks have set the bar incredibly high for all future races. The volunteers and set up at the start/finish line were organized, happy, and efficient. I had my bib and was pawing through the generous swag bag (containing, among other things, a can of Bridge Brewing Prime Time beer and matching beer glass) just minutes after the check-in tent opened. There was a snack tent handing out hot coffee and letting folks take shelter from the steady blanket of sleet that would later turn to snow. The start line was clearly marked – it's hard to miss the big black inflatable Salomon archway – and a 15-minute delay for the start of both the 13k and 25k races (owing to the pre-runners being extra-cautious, I believe) was announced clearly and repeatedly on a loudspeaker. I've come to expect some amount of confusion and general milling about before a race, but the vibe before RRR was pure excitement.
Race Director Gary Robbins provided a comprehensive safety briefing right before the race started, including a visual glossary of course markings, and an easy-to-remember rule for knowing which route to take once the 13k and 25k routes diverged ("if you're doing the long course, you always go left and uphill." Gee, thanks, Gary). The entire course was superbly marked, with an abundance of bright pink pin flags and ribbons, plus signs to show which trails to take and which to avoid.
Worth a special mention are the course marshals, those brave and hardy souls who post up around tricky sections of the course to provide direction and encouragement to the runners. I lost count of how many marshal points this race had, but I was grateful for each one, particularly those that were way up on the Diez Vistas trail, in places that must have taken an hour or more of solid hiking in winter conditions to reach. They were full of cheer and provided valuable updates on the trail conditions ahead.
The Course
KM 0 – KM 6: Sugar Mountain Shuffle
Both of RRR's courses and the DV50 course follow almost the exact same trails for the first 6km, circling counter-clockwise around Sasamat Lake before climbing a forest service road east to Buntzen Ridge trail. This becomes Sugar Mountain trail before it reaches the crossroads where the 13k-ers go down and to the right, towards Buntzen Lake, while us gluttons for punishment follow Gary's rule left and uphill onto the Diez Vistas trail.
I power-hiked up the forest service road a little more aggressively than I would have if the ground had been bare – there was enough fresh snow even at this point that a single two-foot wide path had been stomped into the route by the runners ahead, and we were all lined up single-file. I took every chance I got to crash ahead through the thicker snow on the shoulders, not specifically to gain spots over anyone else, but to stay true to the Roderick on the Line adage "keep moving and get out of the way". I hate feeling like I'm impeding anyone! I ate a gel right before the water station at the Diez Vista branch-off and tried to keep things slow and steady as I prepared for an hour or two of tough climbing.
KM 7 – KM 11: Diez Vistas Snow Dream
The Diez Vistas trail is a rugged wilderness trek with uphill and downhill sections that are gruelling under the best of conditions. Under a shroud of increasingly heavy snow, with six inches underfoot and snowflakes the size of loonies getting lodged in my glasses, it was positively otherworldly. The chain-gang slog up Sugar Mountain trail became a kind of momentum-based train, all runners in single file, lining up patiently during the initial climb to the high point of the ridge. I was in a group of maybe a dozen runners all pulling ourselves up by root and rock, nose to ankle, through a vertical world of accumulating snow and black tree trunks. I felt no impatience here, despite my earlier efforts to get ahead where I could. Far from impeding me, this train of wordlessly panting runners propelled me up the toughest climb of the race at a pace that I have yet to match today.
At the top of the ridge we spread out, and I drifted, nearly solitary, into one of the most surreal experiences of my life. The heaviest snow I've ever seen was piling up fast, rounding the edges of the narrow track carved by the runners ahead of me. At this point on the ridge the long upward climbs are over, and the course becomes relatively runnable if you know which line to follow through the clearings and wider areas. In bare conditions on training runs, I've had to rely on my inexperienced reckoning to find the best path through these variable regions, but during this race, I didn't have to think about it at all. Everyone ahead of me had decided by collective agreement. I just ran, and looked at the snow, and ran, and marvelled.
The downhill scramble on the north end of the Diez Vistas trail was marked by a channel through the snow just as clear as the one on the ridge (plus abundant pin flags), but tackling them on autopilot would have been a quick route to a sprained ankle or a broken leg, even with the snow to cushion the fall. There were course marshals posted before the three steepest descents – so surreal and delightful to encounter a bright smiling face in the monochrome gloom – warning about the treacherous path ahead. Despite all this I took this last leg down to the lake at PR pace, only falling once and bouncing unharmed into a snowdrift.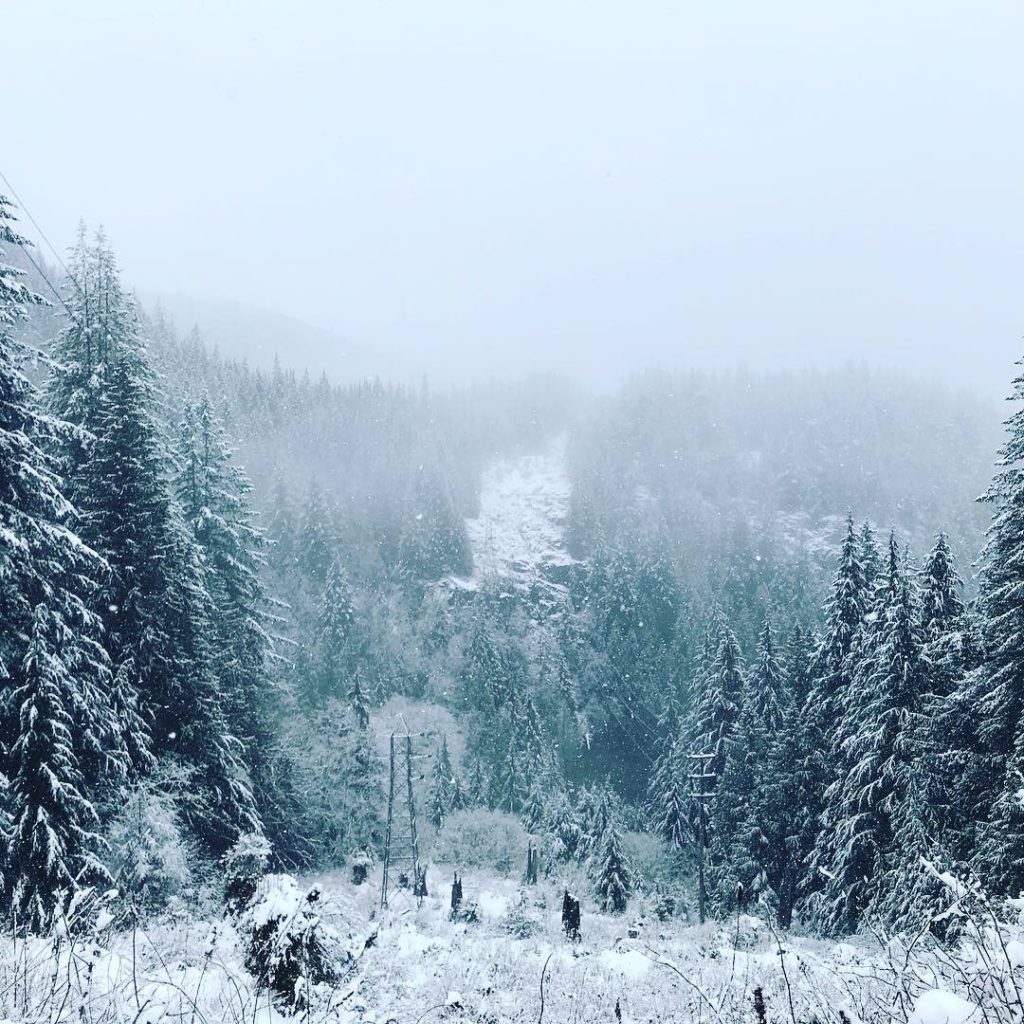 KM 12 – KM 18: Lakeview, Forever
There are two delightfully cruel course transitions in this race, and the first is at the north end of Buntzen Lake, where you come down off the Diez Vistas with shaking quads and fried nerves and find yourself cruising south along the lake on relatively flat wide trails. Just as you get used to that steady pace and your legs start to forgive you for the punishment of the last 5km, oops, ha ha, up you go again, back onto the same ridge you just ran down. This time you don't go all the way to the top, though. Lakeview trail traverses the ridge about a third of the way up, which is just high enough above the lake that the flatness of the lakeshore doesn't apply, and the many creeks running down from above have dug themselves nice little gullies. The trail is wide enough and groomed enough that every step of the way I was thinking "I should be running this", but between the constant elevation changes and the snow clinging to my feet and pushing boughs down into my face, it was a tough slog. I encountered more runners here than through the previous section, including the nameless bonker, and there were many wordless nods and pained glances of solidarity exchanged. This was the low point of the race for me. I wasn't miserable, but I wasn't having fun… at least, not until Lakeview suddenly dropped me down onto Buntzen Lake trail, right along the lake again. I remember saying "holy shit, I'm here already?" despite the weirdly timeless grind I'd just come out of.
From there to the aid station the course is a gravel and dirt road with a few slow rises but no big hills, covered during the race with less snow than what had been accumulating at the higher points on course, but enough to graze the foot with every stride. I caught up to another runner, a tall guy with earbuds in, and he startled with a laugh when he noticed me on his left. He took his earbuds out and we chatted for a bit while I scanned ahead for the aid station. He noticed my bib and with a surprised look asked if there was a race happening. It so happens he was on a training run and knew nothing of the race, having come around from the east side of Buntzen Lake on a course that would have only briefly intersected the race up near the entrance to Lakeview. I described RRR to him and he told me he was getting ready for DV50. I told him I'd see him there and wished him well as we arrived at the aid station, whereupon he waved at the confused bib-registration marshal and turned eastward on the bridge over to the east side of the lake. As with the guy I gave my gels too, I didn't get this fellow's name, but I hope I see him at DV50.
KM 19 – KM 25: F U Gary, Oh Hi Gary
The aid station tent was at the intersection of the Buntzen Lake trail, the bridge, and the southern end of the Diez Vistas trail, which I'd be taking shortly. My recollection is hazy, but the volunteers were still in a party mode, despite having been out there for three hours at least. Someone filled one of my flasks with electrolyte drink while I snacked on chips and Coke, and then I was off. I was energized by the respite, the conversation with the fellow who'd been out training in heavy snow, and the knowledge that I was close to the finish. Taking into consideration the weather and my potentially problematic leg, I'd set myself an A-goal finish time of 4 hours 30 minutes, but I'd be happy coming in under 5 hours. I left the aid station with 3 hours and 23 elapsed since the start, and I felt like a 4:30 finish was within my grasp.
My optimism was tempered by the race's second sucker punch course transition. Immediately upon leaving the aid station, you go straight up the start of the Diez Vistas trail that leads to the intersection with Sugar Mountain, a brutal 1.5km climb with an off-book nickname designed to make you cuss out the race director every time you say it. Taken with fresh legs, it would require a stout effort, but coming towards the end of the race as it does, it's a sadistic test of how well you conserved your energy over the previous kilometres. I knew it was coming and plunged into it with the giddy fatalism of someone leaping out of a sauna and into an ice bath. In reality, was only about 20 minutes of power-hiking, but when I emerged at the top, back at the spot where the Diez Vistas turn-off and the water station had been hours before, I felt the entire accumulated effort of the race vibrating in my feet, quads, hips and lower back.
From this point, things are almost entirely downhill (in a good way), retracing the first 5km of the race in reverse. On the day, getting to the finish was just a matter of keeping my feet moving, tip-toeing down over a few loose rocky sections half-buried in pulverized snow, and coasting through runnable sections and switchback, the churned muddy ground like frozen brownie batter. Hearing the amplified voice down at Sasamat Lake announcing runners as they crossed the finish line inspired me to pick up the pace a little bit, giving me my fastest overall kilometre of the race. I sloshed my way through the slush on White Pine Beach – much whiter than it had been when I started – to claim a 4-hour, 22-minute finish.
Post-Race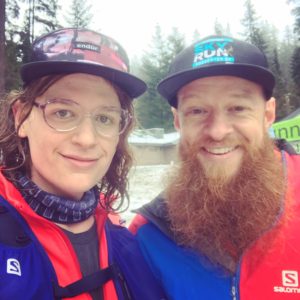 Every CMTS race is directed by Gary Robbins, who gives hugs or high-fives to every person as they cross the finish line. I collected a solid hug from Gary, and after I caught my breath and perused the sushi at the food table (did I mention CMTS races have sushi at the finish line?), I went back to introduce myself to him properly. To my surprise, he recognized me, and we had a chat that began with me being utterly star-struck and concluded with me feeling like I had found – and been accepted into – an amazing community of runners. He asked me for a photo, which was wild, and I took one too.
By that point, the aches and pains of the race were catching up with me, and the wet and cold were settling into me, so I said my goodbyes and headed back to the car.
Conclusion
Run Ridge Run is a first-class race held by a first-class organization. Everything was carefully planned and executed with care, from the pre-race info email to the colour of the paper used for route signage to the array of food and drink at the aid station. Every volunteer was alert, cheerful, and engaged, and that energy transferred into the runners and set the whole race course ablaze with good vibes. In a setting like that, it's no wonder I had an incredible time.
Despite the weather and the panic I'd been feeling over my sore and seizing legs, I put in a performance that I'm extremely proud of. My nutrition was on point, my pace was tuned to ensure that I didn't flame out or leave anything in the tank, I beat my A-goal, I helped some folks, and made some friends. It literally does not get any better than that.