Race Report: 2018 Handloggers Half Marathon
September 4, 2018
When: September 1st, 2018
My time: 2:49:56 official (bib 98), 2:49:52 Apple Watch + Strava
The 2018 Handloggers Half Marathon on Bowen Island, BC was my first trail race. This is my first race report. It is very long.
Why This Race?
After rediscovering my love for running and having some great experiences with the VanRunCo trail crew and an MEC trail techniques class, I decided to investigate some races. Not to compete, but to have something to train for, to push my mileage up, and to show me new things about my body, my endurance, and the world. Completing a trail race at a distance I was already very comfortable with – the half marathon – seemed like a good idea before I started considering anything bigger… like the Diez Vista 50k, which has been stuck in my mind just as firmly as the BMO Marathon was in the months before I made it my first marathon.
Handloggers Half is held on Bowen Island, just off the south coast of British Columbia. I've lived within 90 minutes of Bowen for most of my life, but I'd never been there. This race seemed like the perfect excuse to finally visit a place that had always been something of a childhood mystery to me. When I was a kid living in Gibsons, we often took a ferry from the same terminal that services Bowen, and my parents always said it was where you ended up if you got in the wrong line. I also rather liked the idea of being able to look at the island on a map and have the satisfaction of thinking "I ran around a big chunk of that".
In practical terms, the price was right ($30 for a solo entry if you get in early, plus a donation to the charity they're supporting), the event was small enough to not feel intimidating, and the few historical Strava recordings I could find gave it the appearance of an easy / moderate course with few surprises. I was wrong about that last part, as you will read.
Training
I followed a 12-week training program adapted from one I found online. During the first six weeks I was diligent about hill repeats, power hiking, and cross-training (mostly weight-lifting), but during the second half of the period I got a little sloppy. I overtrained, which burnt me out, and I dropped many of the cross-training days for another rest day or some light bike riding. Many of the runs in that second half were on roads or pavement, which was a mistake, and I did virtually no downhill trail running or technical trails, which I paid for dearly during the race.
As usual, I hated the taper.
Getting There
Unless you live on Bowen Island or know a cool friend with a boat, you'll need to take the ferry from Horseshoe Bay to Snug Cove. I drove to Horseshoe Bay and paid $15 for all-day parking in the lot attached to the terminal, then walked on to the 6:50 A.M. sailing for $10.45 (you don't have to pay to come back to the mainland). I went early instead of waiting for the 8:00 sailing the race organizers recommended because I was paranoid about there not being any parking at the terminal (there was plenty). You could drive onto the ferry, but parking seemed scarce around the parts of Bowen that I saw.
The ferry trip takes about 20 minutes, which is just enough time to get a coffee, go up to Deck 3, and take in the scenery and fresh air. It was a little intimidating staring at Mount Gardner – the race's primary geological feature – the whole way across, but the beauty of the open water and the coastal mountains all around helped calm my nerves.
When the ferry docks in Snug Cove, the wharf where registration happens and the race commences is literally 40 feet away, on your right, at the little two-walled hut with the map of the island inside. I was there 45 minutes before registration opened, so I chatted with a few other early arrivals, took some photos, and made sure my gear was all ready.
Gear
I tried to stay as light as possible, which was a comfort for me both physically and mentally.
Shoes: Scarpa Neutrons. I got these for a song but they're a half-size too small. I want to replace them soon, but they were comfy enough to wear on race day.
Socks: Endur floral crews. Endur socks are the only ones I'll ever wear for races and long runs. Even with tight shoes, I had no blisters or chafing.
Shorts: A 7″ pair I got at MEC in 2016 when I had to re-buy a bunch of gear that got stolen in San Francisco.
Shirt: My lucky "chill cat" tank top, which I also wore for my previous race. It's cotton, not technical material, so on a hotter day or a longer race it might have been the wrong call, but Tandye bought it for me years ago and it's imbued with powerful good vibes.
Pack: Salomon Agile 6. Light, convenient, comfortable. Packed with a first aid and survival kit, a warmer shirt, a Quest bar, and soft flask water bottles in the straps.
Watch: Apple Watch Series 3. I use the built-in Workout app to record, and the excellent HealthFit app to export that data to Strava.
Music and photos: my iPhone 7 and AirPods. This is the first race I have ever run where my phone's music app or the bluetooth connection didn't screw up somehow.
Other gear: a cheap pair of sunglasses that I only needed for the last few miles, and my lucky Endur glitch hat.
I also had a gear bag with my pre-race sweater, a post-race change of clothes, a Quest bar, a book, and my car keys. I left this at registration and picked it up at the finish.
Nutrition
I had a toasted bagel with peanut butter and a coffee on the drive to the ferry, another coffee on the ferry, and a peanut butter chocolate chip cookie right before the race. On the trail I ate three Gu energy chews and drank only water, and at the three aid stations I had a handful of potato chips, chocolate milk, part of an energy bar, and more water. I had no stomach problems during the race but I felt pretty sick afterwards, probably from not eating enough. I tried to make up for it with another cookie and a Coke at the finish area, and later on the best ice cream cone of my life, but my guts felt unsettled whenever I stood up through the rest of the day.
Music
Logistics & Organization
This was a low-tech race which made the logistics refreshingly simple. The start line and finish line were banners. Timing was done via stopwatch so there were no bib chips or timing mats. Gear check was a line of bags next to the registration desk that magically appeared at the finish line. All of this was set up and executed with cheerful proficiency.
This was the smallest race I'd ever been a part of (there were around 100 registered runners) but it was still a lot of work to set up and run, and the people in charge were on top of their game. I got my bib at the registration table in seconds. The pre-race briefing was useful, although the guy describing the course markings made it sound as though there weren't going to be many, and those that we found might be wrong (neither turned out to be true). I saw a mix-up where someone had accepted the wrong bib right before the race started, and within moments, the organizers had straightened it out and both runners were good to go. That wouldn't have been possible with a larger race or less competent organizers.
The volunteers were incredible, too. There were many locals, but quite a few came from off-island. It was a fun experience to be 10 miles out in the bush and recognize a face from the ferry ride earlier that day. Course marshals and aid station workers were all cheerful, well-informed, and fully engaged with every runner who came by.
The Course
The Handloggers Half is a 12.6 mile (sorry, it won't quite knock out that September Strava half marathon challenge) counterclockwise loop around Mount Gardner, with over 1,300 feet of elevation gain. This course has everything from paved roads to wide groomed trails to brush-choked single-track to loose stones, both uphill and downhill. There are many fantastic runnable stretches, but be prepared to shift gears a lot as you adapt to the wide variety of terrain out there on Gardner's western side.
Start – Mile 3: Mellow Park
Relatively flat, with lots of wide, groomed trails in Crippen Park. The bridges and scenery were beautiful. Directions were clearly marked with flour arrows and pin flags, and marshals were posted at the point where the "out" segment intersects with the "in" segment. The majority of the road-running in this race happens here, but there were a few rocky, rooty sections too – one of which I rolled my left ankle on, just before getting up onto Bowen Pit Road, where the Big Hill starts.
We all started the race in a pack, but by the end of this segment, we were pretty spread out. The hardcore runners were already gone, charging up the hill. I stayed in the back of the middle, comfortable that I'd found a pace that matched my strategy of taking things easily, but seriously.
Mile 3 – 6: Big Hill, Bad Ankle
Most of the course's uphill happens in a 1.6 mile grind that starts around mile 3.1, after which you might assume the rest of your morning will be an easy downhill coast. That's what I planned for, and I was wrong to such a grave extent that it almost ended my race early.
Bowen Pit Road turns into a trail around mile 3.4, which is where the first aid station was. I don't remember much about that station, other than there being a lot of camping chairs, parked vehicles, and enthusiastic spectators and volunteers. I had some water but kept moving – I knew I had another 1.3 miles to go on the Big Hill, and I didn't want to lose any momentum.
The trails in this section – Skid and the eponymous Handlogger – are steep but navigable, with sandy/gravelly patches and a few flat sections long enough to let the power hikers catch their breath without having to stop. It's more like the Grouse Grind than its wilder sibling the BCMC trail, but half as steep. I passed a few people but didn't push hard. My left ankle was bugging me a bit but I thought little of it.
Once I got to the top of the hill, around mile 4.7, I started running again, and I immediately rolled my hurt ankle twice more within a quarter mile. Overconfidence and exhaustion let me get sloppy, and I wasn't prepared for how rough the trail was up there at the top. I encountered lots of single track with roots, rocks, hills and dips just significant enough to break my rhythm.
This is where things started to go very wrong for me. I was sure I had trashed my left ankle to the extent that I didn't know if I could continue. The pain was the worst I've felt on any run, stabbing me right through the top of my foot and my ankle any time my foot flexed upwards. I was too trapped in my head to notice much about my surroundings, which is a shame – I have a vague recollection of the ocean being visible far away down the slope to my right, and rich red earth that was beautiful when it wasn't sending roots up to further mangle my ankle. I kept moving, having found a way to keep my left toe pointed in a way that wrecked my form, but that mostly prevented more pain.
Mile 6 – 8: Nightmare Zone
I hobbled along for a while, trying to run through the pain, stopping every few minutes through the last mile of this segment to stretch and calm myself. I felt panicky, and very stuck in my head. Every time I started to feel like I was back in control, a new surprise popped up, the worst of which came somewhere near the end of mile 6 – a quarter mile of what I can only describe as a downhill chute of loose river rocks. I caught up to another woman picking her way down this nightmare, and we agreed that we'd preferred the earlier uphill slog to this.
Steady progress and a change of music around mile 7 helped my panic wear off, but I resigned myself to the idea of dropping from the race if I wasn't feeling better by the time I reached the next aid station.
Thing started to turn around when I came down a hill and found a cell phone and a bluetooth speaker set up at the base of a tree, blasting dancehall music. I knew from the distance on my watch that it belonged to aid station two, at mile 7.5, but it was still out of sight, further down the hill and around a corner. There was only this surreal party beacon in the wilderness. I think I smiled for the first time since the start of the race and made my way down the hill.
Aid station two saved my race. I had water, a handful of chips, a part of a protein bar, and chatted with the crew and a few other runners who came and went. The simple fact that I had to stand still for a few minutes and not run on my ankle surely helped me recover, but what really made the difference was the crew there. There were two or three people. I was too addled to properly recall. I do remember a man and a woman, both positively effervescent, working hard to ensure that everyone who came through left in better shape, mentally and physically, than they'd been in when they arrived. It worked on me too. I spent maybe three minutes there, and I left with a clear head, rejuvenated legs, a compliant ankle, and no doubt in my mind that I was going to finish.
Mile 8 – Mile 10: Euphoria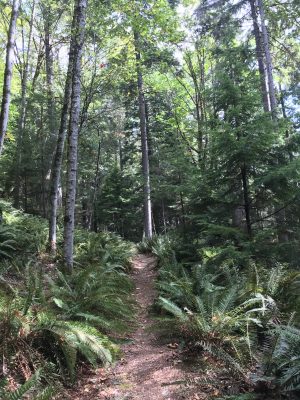 I headed downhill onto Mid Island Trail, which is a nearly straight shot to Grafton Lake. It was here that I got into the state of mind I have only ever experienced during long trail runs, when I am by myself, my mind is clear, and everything is working well.
I wasn't hungry or thirsty. My legs were a little tight but my ankle was silent, and I settled into a more natural running form that sustained my most consistent pace of the morning. It was like a kind of moving meditation. The drone-y, ambient wash of Loscil's generative music app Adrift propelled me over rolling hills of packed earth or fresh finely-crushed stone. Trees that had fallen across the trail years ago had rotted into the ground and then been dug up into fresh red mulch again by the pounding of dozens of feet. I passed the weird and deeply incongruous "Pit", a dusty crater filled with Mad Max style rusted cars and busses that the trail skirts briefly before climbing up a ridge and back down into a stand of deciduous trees. Grafton Lake twinkled on the right, looking much larger than it actually was under the sunlight that was breaking through the clouds.
Experiences like this two-mile stretch are why I don't think I can go back to road running as my main outdoor/fitness thing. This is what I'm in search of, and it has to be earned.
Mile 10 – Finish: the Hairpin, the Bandit and the Causeway
Mile 10 starts on the eastern side of Grafton Lake with an uphill hairpin out-and-back diversion. Because there are no timing mats or other methods of electronically verifying that you ran all the way to the end before turning around, there are marshals posted at either side. The one at the end of the diversion gives you a verbal password that you must repeat to the one back at the main trail. It was a neat little bit of human contact after several blissed-out miles, but I do wish they had extended the diversion all the way down to Grafton Road – that might have added on the extra half a mile this race needs to qualify as a definitive half marathon.
At mile 10.5 I emerged from the woods to find the final aid station back on the cusp of civilization. It seemed to be in someone's front yard, and was staffed by a woman and a black dog who was happily licking a flour arrow off the ground.
I arrived slightly behind a guy in red shorts that I'd seen earlier in the race. We'd swapped spaces a few times during the Nightmare Zone but he'd pulled ahead by the time I got back into the groove. Now here he was again, and despite us not having exchanged a single word I was glad to see him, at least until the aid station lady asked if he had a bib number so she could check him in, and he admitted that he wasn't registered. Some family member had been meant to do it, he said, but hadn't for some reason or the other. I left immediately, determined to crush the remaining miles. I had been through a lot, I was feeling good, and I would be damned if I let a bandit finish ahead of me.
After a brief excursion on the paved Green and Mt Gardner roads – crewed by volunteers, some of whom I recognized from the ferry, and all of whom were still cheerful despite having been out there for over two and a half hours – the course led back into Crippen Park. I had a painful 30 seconds where debilitating cramps froze up my left leg, the muscles of which had depleted more quickly than my right thanks to my ankle-preserving gait earlier in the race. I stepped to the side of the trail and massaged it back into life, imagining it like a left AirPod that had somehow used more of its battery than its righthand sibling. Luckily the cramp dissipated, and I got moving again, passing park visitors who were bemused but very supportive of the exhausted runners on their final push.
The last half a mile followed Melmore Road down to the causeway so prominently featured in the Handlogger's promotional materials. I saw more people on this last little bit of road than at any point since the start of the race. There were pedestrians, volunteers, locals in their driveways, and finishers with their bibs still on, laden with canned drinks and food and looking exhausted but happy. Every person I encountered made eye contact and smiled, waved, or cheered me on, from the road where I was technically impeding traffic to the finish line where I was maybe the 60th or 70th person coming in. I might as well have been in first place – everyone was that excited. It was hard not to finish strong with that kind of support.
This was my thirteenth race finish, and the most exhilarating by far. I was amazed to be finishing over 10 minutes faster than my 3-hour goal time, especially considering the minutes I'd burned dealing with my ankle, but the vibe of the finish line crowd is what truly elevated the experience.
Post-Race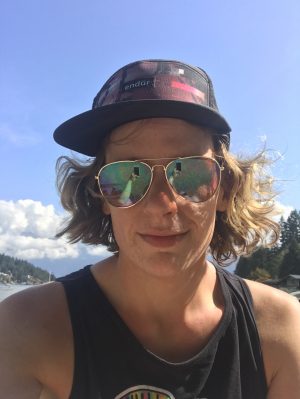 The finish area was hopping with volunteers, runner and families, and the atmosphere was like a small community festival. Within moments of finishing, the euphoria wore off and the collective effort of the race landed on me like a thousand pounds of wet laundry. I started feeling sick to my stomach in a "you didn't eat anywhere near enough calories" sort of way, so I collected my gear bag, grabbed a drink and some food from the positively stacked snack tables, and sat down to recover and send Tandye a "hey I survived" message and photo.
I usually like to chill on my own for a few minutes after a race, but a fellow runner I recognized from the ferry and the pre-race chat on the wharf was there and I was glad to see him. We talked about our runs, commiserated over injuries, and marvelled over some of the amazing finishing times we'd heard about. I didn't catch his name, and my nausea kicked into high gear shortly thereafter so I left before the awards were handed out at noon, but he works at a running shop near my home, so I should go say hi.
I crossed the finish line shortly before noon, which left plenty of time to catch the 1:10 ferry back to Horseshoe Bay. Thankfully my stomach had recovered enough for me to go enjoy that amazing ice cream at Branch & Butter before I boarded.
I napped on the ferry deck in the sun for about 10 minutes before we got underway, and it was an all-time incredible snooze.
Conclusions
The Handloggers Half is not a full half marathon, but it is the hardest race I've ever run, even judged against my two full marathons. It is not a race for beginners, and if you think you can skate by on luck and endurance alone, you will find yourself in pain or worse, but if you pay attention to your body and your surroundings, you can finish strong.
I wanted an experience that would show me new things about my body, my endurance, and the world, and I received all that in abundance. There were some real lows caused by my lack of downhill preparation, but the beautiful, unforgiving course, the periods of absolute euphoria, and the amazing organizers and volunteers made this a peak experience. I don't know what other trail races might be in my future – I have some commitments to meet before I even dare consider the DV50 – but I will absolutely be coming back to Bowen for the Handloggers Half next year.
My sincere thanks to the organizers, the volunteers, and my fellow runners for an amazing experience!